If you are looking forward to becoming more mindful or are trying to walk on the path of self-development, it's highly likely you must have heard about Mindvalley.
Mindvalley is a global personal growth and education company founded by Vishen Lakhiani in 2003. Since its release, renowned celebrities and personalities have talked about how it changed their lives to a large extent.
The range of courses and programs Mindvalley offers are effective in essential aspects like energy healing, mindfulness, and spirituality.
But how effective is Mindvalley? Is this platform worth its cost? Is the hype organic, or is there something fishy down the line about its buzz?

Let's understand all of these in this unbiased Mindvalley review.
Mindvalley Review: In a Nutshell
| | |
| --- | --- |
| Courses (number of courses) | 60+ |
| Languages available | 7 |
| Free Courses | Free Regular On-going Masterclasses |
| Course duration | 30-50 Days (About 20 Mins Each) |
| Mobile app | Available on Google Pay/Apple Store |
| Money-back guarantee | 15 Days of Purchase |
| Overall ratings | 4.7 on IOS & Android |
What is Mindvalley?
Mindvalley is an educational platform committed to self-development, improvement, and transformation.
It is available online on different mediums. There are varied options for subscribing to the membership or investing in individual courses.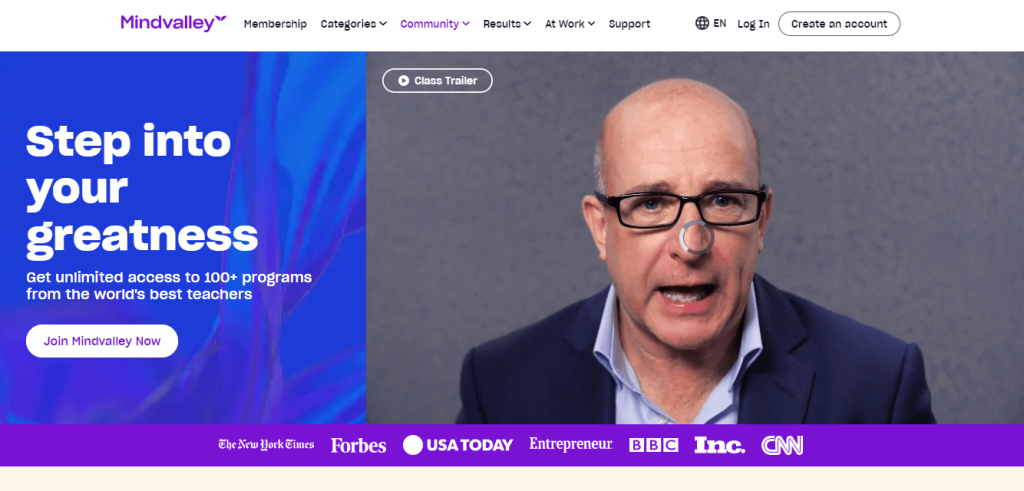 Mindvalley also came up with the term "Consciousness Engineering." That best describes what this platform tries to do and how it connects people from different segments.
These programs often target subjects like spirituality, fitness, energy healing, mindfulness, meditation, and leadership. It has reportedly helped many entrepreneurs and global leaders lead fulfilling lives.
Courses Library of Mindvalley
Mindvalley offers a range of courses that target different aspects of well-being. These 60+ courses hit right where they are designed to.
Let's learn more about these courses and how you can take one based on your needs.
Personal Growth and Development
"The Quest for Personal Mastery" by Srikumar Rao and "Uncompromised Life" by Marisa Peer are great examples if you want to invest in the journey of personal growth and development.
Mindfulness and Meditation
"Superbrain" by Jim Kwick and "The M Word" by Emily Fletcher are terrific start to learning about the basic and advanced techniques in mindfulness and Meditation.
"Wildfit" by Eric Edmeades and "Energy Medicine" by Donna Eden can help you maintain a healthy lifestyle.
"The Mastery of Love" by Don Miguel Ruiz and "The Soulmate Experience" by Mali Apple and Joe Dunn are prime courses to learn how you can maintain healthy relationships and love without limitations.
Entrepreneurship and Freedom
The process of entrepreneurship becomes a lot easier with experts like Ken Honda and Edmeades. Courses like "Entrepreneurial Business Building" and "Money EQ" can help you accelerate your growth or begin with that startup idea.
Spirituality and Awakening
"Awaken the Species" by Neale Donald Walsch and "Duality" by Jeffrey Allen target right the spot in the journey of spirituality.
"Conscious Parenting Mastery" by Dr. Shefali Tsabary and "Happy Child Guide" by Katie and Gay Hendricks are perfect to master the art of parenting and learn how you can improve your skills.
Performance and Productivity
"The Habit of Ferocity" by Steven Kotler and "Super Reading" by Jim Kwik can significantly help you be more productive in little time.
Verdict: These courses have a set strategy and are powerful if followed properly. I would suggest you have a clear goal in your mind and these broad subjects can help you with the same.
Mindvalley Review: Top 5 Courses by Mindvalley
Let's learn about those top 5 courses by Mindvallery that have significantly transformed lives over all these years.
1. "Duality" by Jeffrey Allen
"Duality" by Jeffrey Allen has been one of the most popular courses since its inception. This 8-week self-healing course has helped countless people deal with negativity.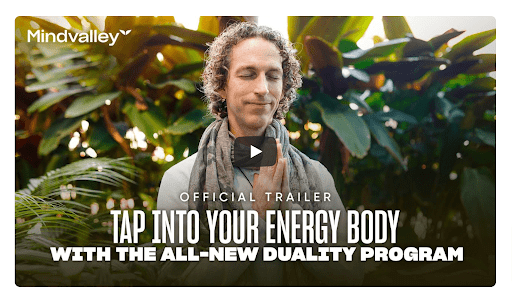 Jeffrey Allen has been an inspiring spiritual guru, transforming many lives with this in-depth course. He addresses the power of fluidity and our ability to remain supple during difficult circumstances. Know more about Duality with our detailed guide where we have stated our honest opinion and experience about the course.
2. "Wildfit" by Eric Edmeades
If you are struggling with Fitness and are trying to cope with bad eating habits, then Wildfit by Eric Edmeades can transform you into someone who prioritizes health over every dopamine rush. 
This course touches on the common myths related to weight loss and helps make a perfect health plan in your journey.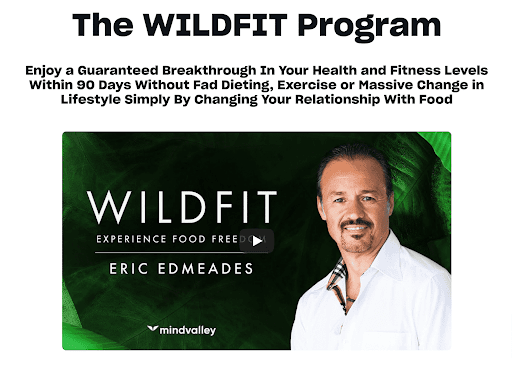 3. "The Mastery of Sleep" by Dr. Michael Breus
Dr. Michael Breus in this course explains in depth how you can make the most of your time while sleeping. You will learn about the various benefits of sleeping right and what measures you can take to assure peace and instant rejuvenation.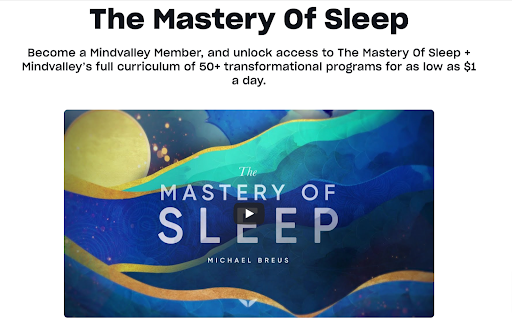 You will learn about various methods to deal with severe problems like Insomnia and Sleep deprivation.
4. "SuperBrain" by Jim Kwik
The brain is one of the body's most energy-consuming, mysterious, and riveting organs. Its untapped capabilities and efficiency may always be hidden if we do little to get access to the complete version of it.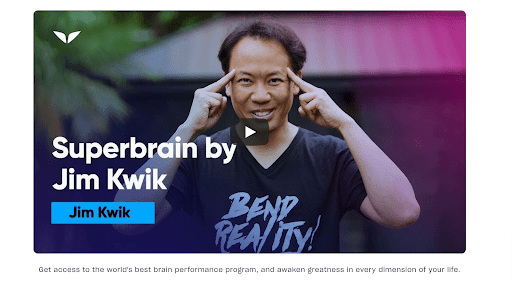 This 30-day course by Jim Kwik targets precisely that. You will come out of this course with a transformed way of looking at life and learn various techniques to improve your memory and so much more.
5. "Beyond Fasting" by Ronan Oliveira
Fasting is one of the most searched terms on Google. People are curious about the benefits and risks associated with this.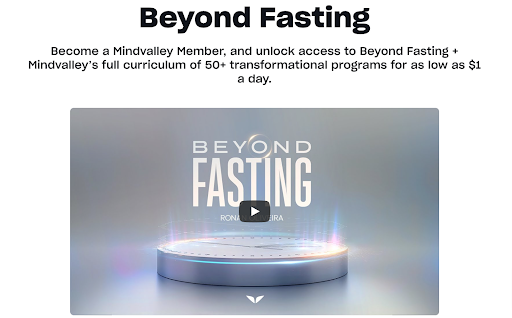 Ronan Olveira gets into great depth about intermittent fasting and how following that can make you more energetic and increase your fitness journey significantly. "Beyond Fasting" is a terrific way to learn about this journey better.
Verdict: All of these are a few of the most popular and powerful courses on the platform for a reason. They might not necessarily speak to you. But they are definitely a nice place to begin your journey.
Here we have list more all time popular Mindvalley courses to transform your life.
Mindvalley Podcasts
The Mindvalley podcast is a brilliant way to learn about this platform and learn insights from Vishen himself. He teaches several ideas and talks about personal growth in the sphere of mind, body, spirit, and work.
It is available on Apple's Podcasts, Google Podcasts, Spotify, and Stitcher.
The podcast has gained significant attraction with over 50,000 listeners worldwide. Guests like Joe Dispenza and Robin Sharma share incredible insights into how people can transform their personal and professional lives.

Superhumans at Work with Jason Campbell is also available on the abovementioned platforms.
Verdict: I appreciate these podcasts as I can listen to them while doing everyday chores or working out. They add to the overall experience of my relationship with the platform.
Mindvalley Mobile App
Mindvalley becomes easily accessible as it is available on your smartphone. Users don't have to rely on desktops all the time.
They can easily access the Mindvalley Mobile App on Google Play Store and Apple Store.
Verdict: It's not always possible to access my desktop while going through the quests. This mobile app was a significant reason why Mindvalley made sense to me initially.
Mindvalley Pricing: Is it Affordable?
Let's learn about the various pricing policies with Mindvalley and address the main question. Is it affordable?
Mindvalley has only one plan but Mindvalley gives you options to either opt a monthly or yearly payment plan.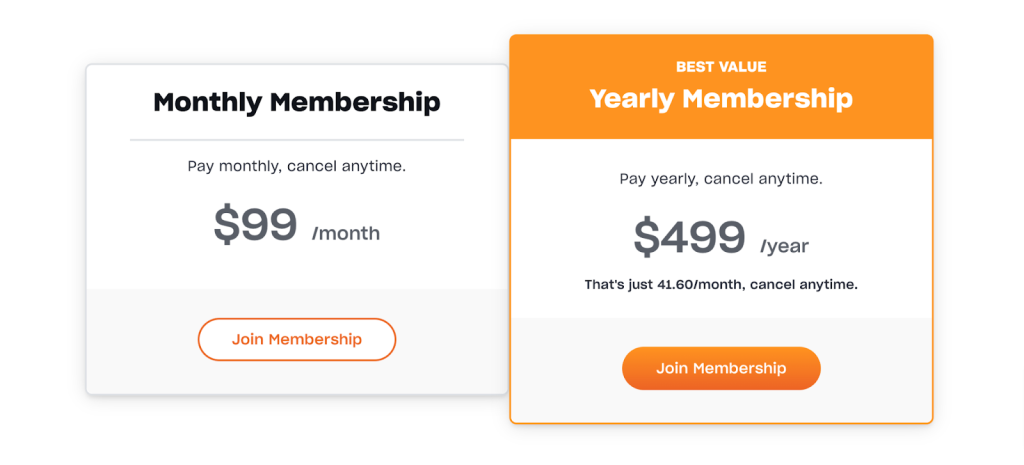 Mindvalley Monthly Membership
You can choose a monthly membership if you want to try this platform but need more time to be ready for a long-term commitment.
You can get access to different quests and services with this service at a discounted rate of $99/month.
Mindvalley Yearly Membership
A yearly Mindvalley membership can be perfect for you if you seek a long-term commitment. You will also get a whopping discount of 60 percent with this membership.
Yearly membership is available at $41.60/month.
Mindvalley also provides a 7-day free trial where you can access all the Mindvalley courses. You can always try the free trial before purchasing the Membership.
Which Plan is Right For You?
Depending upon your preference, you can choose the membership and enjoy all the services of Mindvalley. These options and discounts make subscribing to the membership easier. The 15-day refund policy also eases up the process.
The 60 percent discount on the annual membership makes the plan the most cost-effective. You can commit to growth and self-improvement and follow your favorite quests religiously with the yearly membership.
This assurance makes it the perfect choice.
Mindvalley Review: Do These Courses Really Help? (My 30-Day Experience)
My first 30 days with Mindvalley have been quite interesting. I tried courses like Duality because it was pretty popular, and I was committed to spirituality and becoming better.
Giving almost half an hour of my day has become a habit for me. I look out to these few minutes when I can listen to Jeffrey Allen and learn about myself better.
He talked about these invisible frequencies and manifestations. I always knew there was something extra to how this world works, and because of this course, my mind became more apparent.
I also started intermittent fasting because of Ronan. And I have no doubt that I am more energetic than ever before.
Yes. I look forward to more courses and making more time for this application. I have usually used it on my mobile while going for a walk. It's easy. I couldn't have asked for anything more.
Information in today's age is free. But what we need is a structure. Mindvalley provides precisely that.
Mindvalley Review: Pros and Cons of Mindvalley
Mindvalley offers a bunch of services and courses by several professionals and experts in their respective fields.

Let's go through a few of the pros and cons of this renowned platform.
Pros:
Renowned Expert Instructors
Diverse Course Selection
Holistic Approach to Development
Personal Growth Focus
Innovative Learning Methods
Novel Interactive Exercises
Community Support
Incredible Networking Opportunities
Regular Global Events
Accessible to All
High-Quality Content
Transformative Experiences
Positive Impact
Cons:
Seemingly High Course Prices
Self-paced Learning Challenges
Potential Information Overload
Limited Interaction with Instructors
Over-Reliance on Digital Platforms
Limited Refund Policy
Not Suitable for Traditional Learners
Verdict: As evident, Mindvalley is an incredible platform that has transformed many lives. But at the same time, it comes with its own shortcomings and limitations.
It might not be affordable for everyone. And yes, interaction with instructors is often limited due to the community size. But all the good things Mindvalley has brought to my lifestyle make it worth it for me.
Mindvalley Alternatives
Mindvalley is the biggest platform in this domain. But it is not the only platform. There are other great alternatives to Mindvalley if you have budget or trust-related concerns.
Headspace has become one of the most popular applications in recent years. It's mainly concerned with meditation with different focuses. Various guided meditations are aimed at anxiety, insomnia, or anger.
It is undoubtedly a great way to start with meditation or mindfulness practice if you are a beginner. There is a free version for Headspace. That's limited, and to unlock the full version, you can go through their plans.
You also get incentivized to use the application every day. That's a plus!
Like Mindvalley, Coursera offers a bunch of courses from renowned experts and professionals from different areas. No matter what you want to learn about, Coursera has got you covered.
The platform has a broad range of subjects, from Computer Science and Business to Self-development and Soft skills. Many courses on the forum are free to go through. You might have to pay to gain course certificates or get complete access.
This range of subject courses makes this platform unique for learning and improving.
Skillshare is an online learning community where there are entire courses of libraries for students of different genres. You can learn to play the guitar or understand more about coding or speedreading on this platform.
Free access to Skillshare is limited. There is also a free trial so that you can go through the platform and see if it suits you. It can also help you find your community and network.
Related read:
Final Verdict: Is Mindvalley Worth it?
Is Mindvalley worth it? That depends on your goal and what you want from this platform.
If you want to commit to self-development and healing and learn a lot from leading experts in their fields and entrepreneurs, then a Mindvalley subscription can transform your life and help you improve.
It can change how you deal with everyday problems and learn new ways to inspire, lead, and instruct.
A clear "why" can help you make the most of your experience with this platform.
FAQs: Mindvalley Review
How do I subscribe to Mindvalley?
You can visit the official website and click "Membership." The process after that requires you to choose the plan and make the payment.
How do I get a discount on my membership with Mindvalley?
You can get a 60 percent discount with a Mindvalley membership if you choose an annual subscription. That applies to the amount automatically.
Is Mindvalley available on mobile?
Yes. Mindvalley is available both on Google Play Store and Apple Store.
Can I get a refund for my membership with Mindvalley?
You can get a refund within 15 days of your subscription to your membership with Mindvalley.
What are the best courses on Mindvalley?
You can try "SuperBrain" with Jim Kwick and "Duality" by Jeffery Allen.