Mindvalley vs MasterClass, which one wins this ultimate battle? Let's find out. So you have decided to up skill and are confused between 2 giant learning platforms around the globe.
Mindvalley is a personal growth and education company that can help you accelerate your understanding of topics like mindfulness and entrepreneurship.
On the other hand, MasterClass is a spectacular learning platform where you can get high-end educational content through video lessons, workbooks, and supplementary materials.

So which one is better and on what basis?
As someone who went deep into both platforms, I decided to get to the core of this debate and help you make the most informed decision based on my experience!
With that, let's get into Mindvalley vs MasterClass in detail.
Mindvalley vs. MasterClass: In a Nutshell
Let's quickly strive to compare both these educational giant platforms Mindvalley vs MasterClass, based on the following parameters and make up our minds on what might be more suitable for you.
| Parameters | Mindvalley | MasterClass |
| --- | --- | --- |
| Focus | Self-development and Betterment | Education and learning in respective fields |
| Languages Available | 7 | Classes are primarily in English with Spanish and German subtitles |
| Learning Approach | Interactive learning experience – video lessons and community support | Pre-recorded video lessons in a documentary-style method |
| Number of Courses | 60+ | 180+ |
| Instructors | Trainers include Vishen Lakhiani, Jim Kwik, and several others | Trainers include personalities like Gordan Ramsay, Hans Zimmer, and several others |
| Format | Short and digestible video lessons | The content is divided into several mini-sessions |
| Price | A discounted annual membership begins at $499/per month | Starts at $15/per month at an annual membership |
| Mobile App | Available on Google Pay/Apple Store | Available on Google Pay/Apple Store |
| Customer Care | Call, Email, or live chat | Call, Email, or live chat |
| Ratings | 4.7 on IOS & Android | 4.9 on IOS & 4.2 with Android |
While both these platforms are heavily credited and used, these parameters show there are differences in the way these platforms are available and work.
Now let's try to understand this distinction in great depth.
Mindvalley Overview
Mindvalley has been one of the most influential platforms in recent years. It has built a firm position with over 15000 case studies and more than 12 million learners.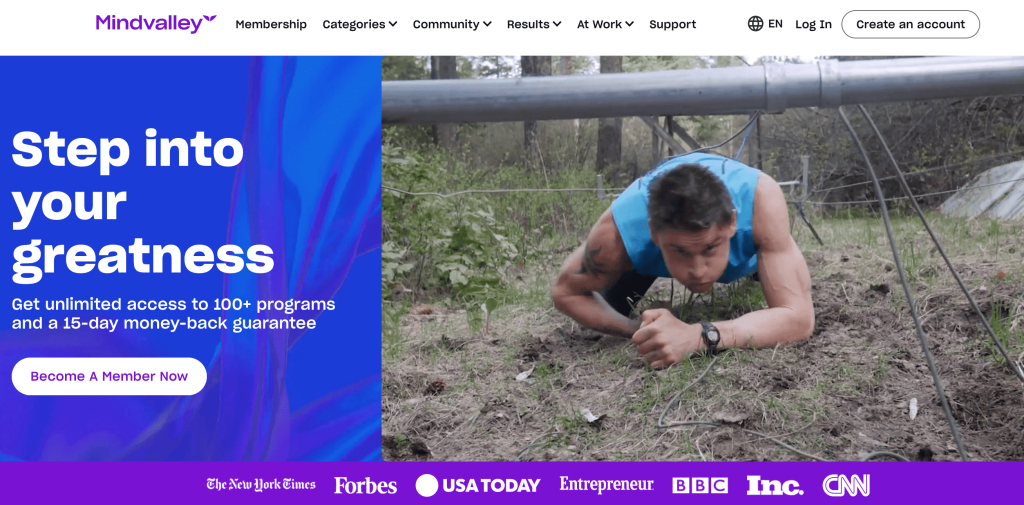 Vishen Lakhiani founded the platform in 2003, and since then, the growth and quality of the courses on the forum have improved significantly. These courses mainly focus on subjects like Spirituality, mindfulness, relationships, health & wellness, entrepreneurship, and much more.
These 60+ courses are divided into consumable chunks of 20-50 minutes. They provide a mix of interactive lessons and pre-recorded sessions. Users can learn and get a significant push from renowned teachers and leaders in their overall journey.
MasterClass Overview
This educational platform is excellent for learning directly from renowned experts and industry leaders. These 180+ courses hit the chord perfectly.
The verifiable and high-quality lectures on MasterClass by renowned personalities like Martin Scorcese and Serena Williams can give you an incredible boost in your learning scale. The downloadable workbooks make this process easier!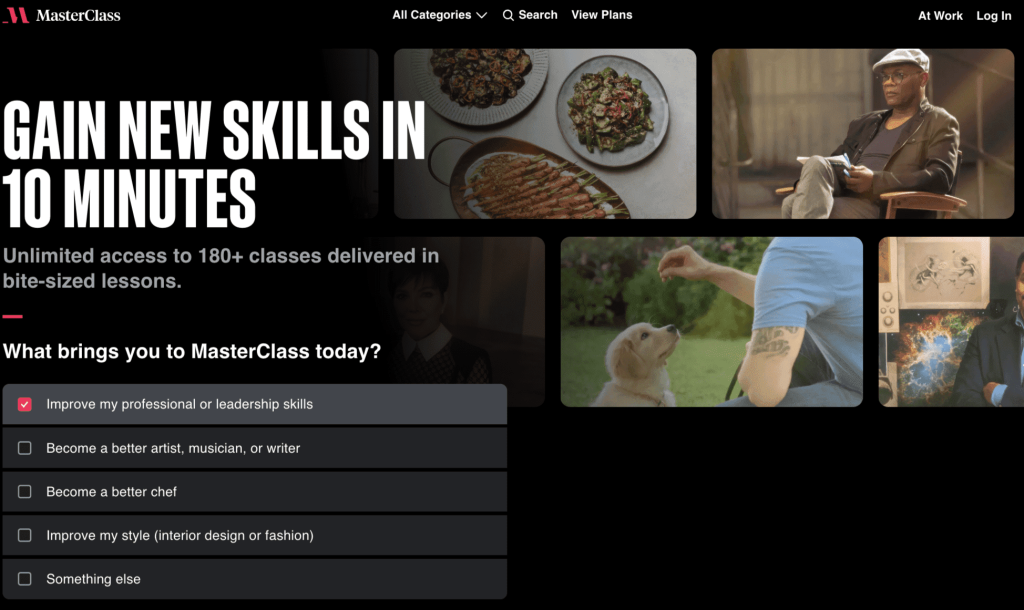 Additionally, these courses focus on technical skills and span creativity, mindset, and other unique subjects. The collection of these courses makes MasterClass influential in the sphere of learning and education with a systematic opportunity for education.
These varied areas make MasterClass truly unique and worthy. It revolutionizes learning and the traditional education system.
Mindvalley vs MasterClass: Course Selection
Let's explore the wide range of courses available on both these platforms.
Mindvalley Courses
Mindvalley majorly focuses on topics like spirituality, personal development, health & fitness, relationship, and entrepreneurship. Their courses are often selected from a holistic point of view.

The point of these courses is to ingrain the habit of focusing on these disciplinary practices and choosing the right option. Let's go through a few of the best courses in Mindvalley.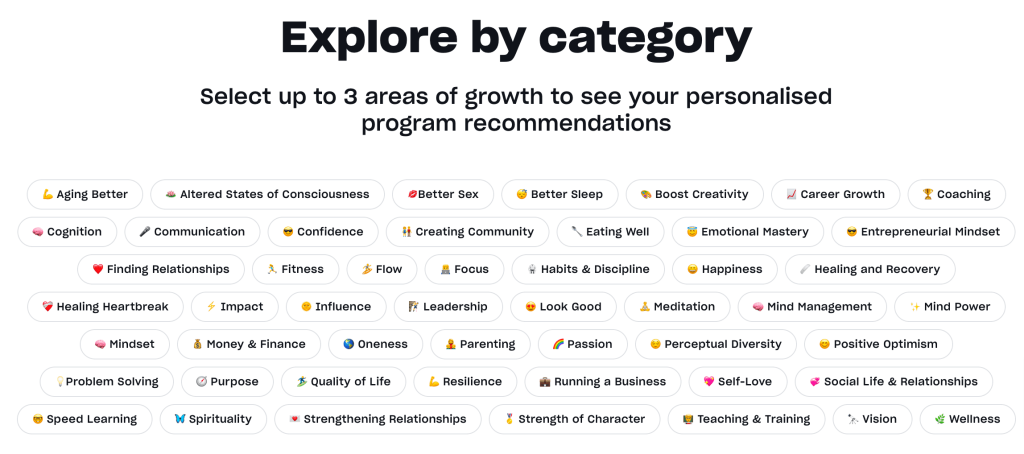 "Wildfit" by Eric Edmeades
"Superbrain" by Jim Kwik
"Duality" by Jeffrey Allen
"The Mastery of Sleep" by Dr. Michael Breus
"Beyond Fasting" by Ronan Oliveira
MasterClass Courses
MasterClass focuses primarily on creative education. These disciplines include cooking, writing, dancing, music, acting, sports, and many others.
If you are looking forward to learning from your favorite celebrity in any of these fields, then there might be a course by that celebrity on this platform. Let's go through a few of the best courses on this platform.

Gordan Ramsay teaches cooking
Hans Zimmer teaches film scoring
Serena Williams teaches tennis
Ron Finley teaches gardening
Chris Voss teaches the art of negotiation
Verdict: Mindvalley and MasterClass have a different set of focus with course selection. You can decide based on your end goal before making the decision.
If spirituality or personal development is your goal, then Mindvalley has more options in that arena. On the other hand, MasterClass offers varied possibilities for perfecting a craft or learning creative skills.
Mindvalley vs MasterClass: Instructor Profiles
Let's learn about the gurus or the teaching experts that are available on both of these platforms.
Mindvalley Instructors
These are a few of the best teachers in Mindvalley. Their courses pull huge crowds to the platform every year.

Vishen Lakhani: The founder of Mindvalley himself teaches about the ins and outs of entrepreneurship, personal growth, and potential.
Jim Kwik: Jim Kwik teaches about the various spheres of the brain in this course. He covers speed reading, improving memory, and accelerated learning techniques.
Marisa Peer: Marisa Peer deals with transforming limiting beliefs and achieving success. Her experience as a therapist makes her course incredibly insightful.
Emily Fletcher: Emily gets into the great depths of meditation and teaches a great deal about how to use it to achieve tremendous success.
Neale Donald Walsh: Neal is a spiritual teacher who goes into the depths of spirituality and the awakening of human consciousness.
MasterClass Instructors
Gordan Ramsay: Anyone even mildly interested in cooking wouldn't miss a chance to learn from the legend himself.
Neil Gaiman: Neil, in his MasterClass, gives excellent insights into storytelling, plotting, and the creative process. His ability to create the perfect fantasy world makes him the ideal teacher.
Serena Williams: Tennis legend Serena Williams shares her incredible tennis secrets in this master class.
Hans Zimmer: The master of creating transcendental music gives his insights in his MasterClass. You can understand the art of storytelling through music in this special.
Annie Leibovitz: You can learn a great deal about photography and various techniques attached to it from Annie in her lessons.
Verdict: Both platforms have elite experts and instructors with considerable expertise. They rely on credible teachers with pragmatic and updated knowledge about their fields.
Mindvalley vs MasterClass: Content Format
Mindvalley and MasterClass have different formats for teaching. Both have designs and interfaces that help people use these platforms in a productive way. Let's understand the differences and shortcomings attached to them as well.
Mindvalley Content Format
All the programs on Mindvalley are added in both video and audio formats. These courses come with a dynamic interactive content format. Let's learn more about how these courses are majorly available.
Video Lessons
Interactive Exercises
Community Engagement
Live Webinars and Q&A Sessions
Additional Resources
The content of Mindvalley is divided into these categories. The live webinars and Q&A sessions make it easy for members to interact with their coaches and discuss their doubts. That makes Mindvalley user-friendly.
At the same time, the strong community and offline meetups help people find like-minded people. They can sometimes be infrequent or spontaneous.
MasterClass Content Format
MasterClass has a distinct format of online content. It has a unique storytelling and documentary-style approach. Let's learn more about the content format on this platform and how it is segregated.
Pre-recorded Video Lessons
Documentary-style Approach
Variety of Creative Disciplines
Self-Paced Learning
Additional Learning Materials
Inspirational Insights
MasterClass provides a comprehensive structure through its pre-recorded video lessons. The Workbooks and additional learning materials offer an excellent way for people to study the respective fields of their own accord.
This makes the platform less interactive than Mindvalley and more structured in a traditional sense of teaching.
Verdict: Both platforms have great formats for videos that are appealing and user-friendly. While Mindvalley gets an edge with regular community engagement and Q&A sessions, MasterClass relies on traditional mediums of teaching.
Mindvalley vs MasterClass: Pricing Structure
Let's learn about the pricing structure of both these platforms. They can help you make the most informed decision based on your budget.
Mindvalley Pricing Plan
Mindvalley offers two distinct options for its membership.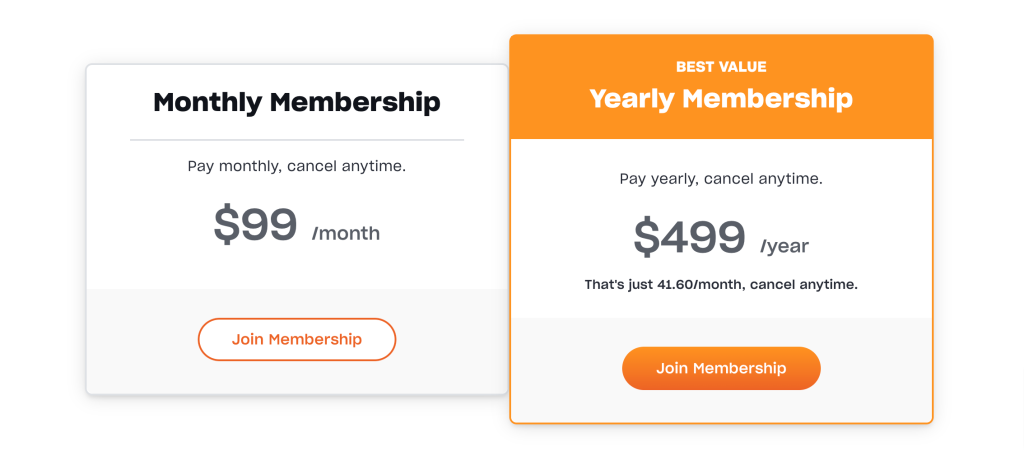 A monthly membership allows you to access different quests and services at a discounted rate of $99/month.
On the other hand, yearly membership on Mindvalley comes with an incredible 60% discount. That makes an annual membership worth only $499.
MasterClass Pricing Plan
MasterClass's subscription is divided as follows: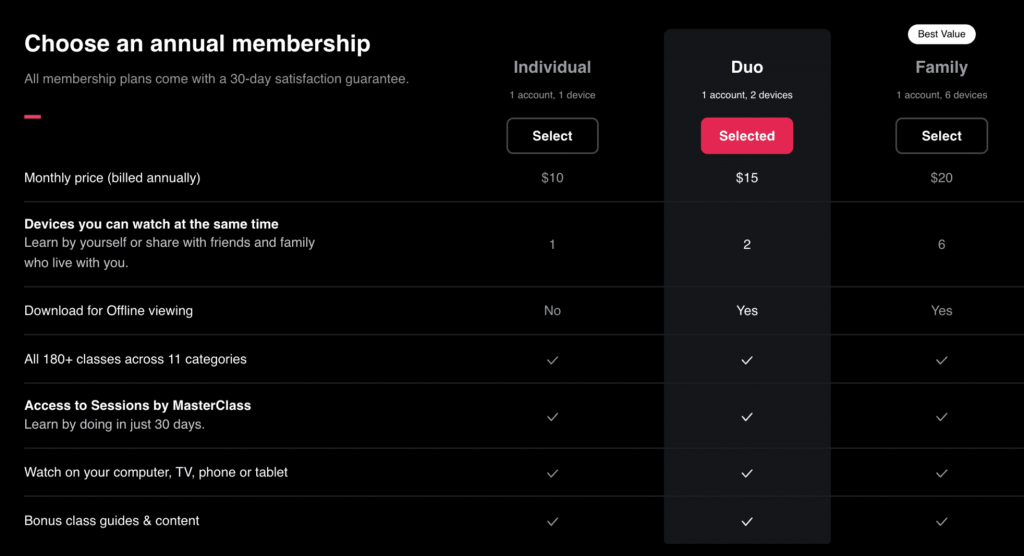 Individual (Annual Membership); $10 per month
Duo (Annual Membership): $15 per month
Family (Annual Membership): $20 per month
Verdict: There are no options for a monthly membership with MasterClass. That demands a firm commitment from people. On the other hand, the flexible membership with Mindvalley makes it relatively easier to subscribe.
But Mindvalley's rates are higher as compared to MasterClass. That can discourage many users from even considering the platform.
Mindvalley vs MasterClass: Community and Networking
Both these platforms provide an opportunity to connect, learn, and grow. But they work differently. Let's learn what that means.
Mindvalley: Community and Networking
Mindvalley helps in building a strong community and provides several options for networking in the following manner:
Peer learning and support
Online community section
Networking opportunities
Collaboration and co-creation
Live events and Workshops
Expert Interaction
These provide incredible ways to find accountability partners and form a support group during your commitment to self-betterment. Mindvalley's most considerable merit is its ability to connect all its users.
MasterClass: Community and Networking
MasterClass needs a dedicated community platform to network the way Mindvalley has. But it still provides an opportunity for the same in the following manners:
Shared Learning Experiences
Online Community Groups
Alumni and Networking Events
Collaboration Opportunities
Instructor Interaction
MasterClass can instill the habit of sharing and seeking a greater community. In this way, users around the globe share several groups online and offline to facilitate the same. You can always find like-minded people at various forums on the internet.
Verdict: Mindvalley has an in-built system for the community and majorly promotes the same. Therefore, it becomes easier to find your community on Mindvalley.
Mindvalley vs MasterClass: Customer Care Services
Let's learn about the customer care services of both of these platforms.
Mindvalley Customer Care
You can quickly contact customer care services on the support page of Mindvalley. You can find several email ids on the website.
You can also find options to call or contact them through live chat.
Mindvalley has a 4.2 rating on Trustpilot.
MasterClass Customer Care
The customer service team at MasterClass is highly responsive. You can find the email id and call options on the website. It also has a 24/7 chatbot available.
MasterClass has a 2.6 rating on Trustpilot.
Verdict: Both platforms have a pretty impressive customer care service portal. They are also easily accessible. But complaints regarding the membership were higher on MasterClass than Mindvalley on Trustpilot.
Mindvalley vs MasterClass: Pros and Cons
Let's quickly go through the pros and cons of both these platforms one by one now.
Mindvalley Pros and Cons
| Pros | Cons |
| --- | --- |
| | |
| Expert Teachers with Impressive Knowledge | Seemingly High Course Prices |
| Attractive Design | Potential Information Overload |
| Unlimited Courses Available with Membership | Not Suitable for Traditional Learners |
| Flexible Membership Options | |
| A Healthy Community | |
| Timeless Topics | |
MasterClass Pros and Cons
| Pros | Cons |
| --- | --- |
| A Great Number of Effective Courses | Monthly Subscriptions Unavailable |
| Credible Experts | No Certificates |
| Focuses Learning Options | Fewer Options for Interaction with Experts |
| Reasonable Pricing Options | |
| Additional Resources | |
The 30-Day Experience
I used both platforms for 30 days, and here is what I observed about them.

Mindvalley changed and improved my spiritual journey. It finally allowed me to stick and work on my meditation practices. SuperBrain is undoubtedly worth all its praise. I listened to it while cooking on my phone.
I had no difficulty interacting with the platform as it's pretty user-friendly.
I used MasterClass primarily to learn about storytelling. Yes, it was different from the way Mindvalley was developed because both of them have varied purposes.
I had to be in a zone to take a course from MasterClass because that demanded my attention and proper working space.
Mindvalley fulfills my other area of well-being. This intention behind subscribing to these platforms made all the difference.
I think both these platforms are popular for a good reason.
Final Thoughts- Mindvalley vs MasterClass
Choosing any one of these platforms depends upon your priority.
If learning about a particular skill set is your priority, MasterClass is perfect. There are several options for the same, and you can select courses based on that. It is also comparatively budget-friendly.
Mindvalley fulfills a somewhat different need. It is a holistic app that can change your life slowly and steadily. It could be the one for you if you are committed to spiritual growth and learning about other arenas of freedom like entrepreneurship.
Having a proper mindset can ease up your decision-making process because both are filled with impossible options for learning.
FAQs: Mindvalley vs MasterClass
Can I get a refund for my membership with Mindvalley?
You can get a refund within 15 days of your subscription to your membership with Mindvalley.
Is MasterClass available on mobile?
Yes. MasterClass is available both on Google Play Store and Apple Store.
Is there a monthly membership available with MasterClass?
No. Mindvalley has only annual options for subscription.
How do I avail 60 percent discount on my Mindvalley membership?
You can simply purchase the annual Mindvalley membership. It would automatically reflect on the final amount.
Are there interactive sessions on MasterClass?
Most sessions on MasterClass are pre-recorded.