The world is much more than what our senses can comprehend. If you want to accomplish a goal, deal with something profound inside your brain, or rewire your consciousness, it can't happen without fully understanding your intuitiveness.
This deeper realm of consciousness is where Jeffery Allen intervenes and claims to help people.
Jeffery focuses on energy healing and touches the core of this concept in his course, Duality on Mindvalley.
But is energy healing legit or just some mystical concept? Does this course help you with reaching higher awareness and achieving your goals?
Let's learn about the Duality course in-depth and try to understand whether the course delivers what it promises or not.
Duality Jeffrey Allen Review: A Brief Summary
Before we get to a detailed review of the course, let's try to summarize it on the basis of a few important parameters.
| | |
| --- | --- |
| Course Duration | 7 Weeks |
| Instructors | Jeffery Allen |
| Purpose of the Course | Use Your Energy for More Health & Wealth, Inner Peace, Love, and Clarity |
| Students Enrolled | 700,000+ |
| Pricing | $41.60/month (Yearly Discounted Price) |
| Availability on Mobile | Google Play Store, Apple Store |
| Our Review | 4/5 |
What is Mindvalley Duality All About?
Mindvalley Duality extensively focuses on utilizing your energetic system to gain a higher spiritual control in your life.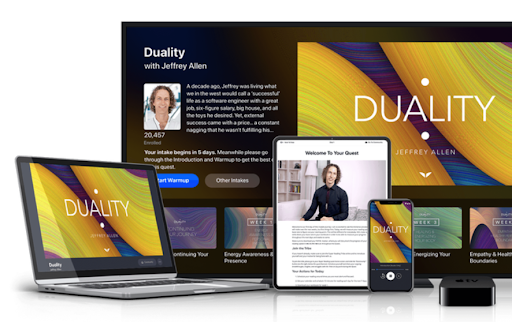 You will find guided exercises and meditations to achieve the same through the course. This in-depth period tries to build a strong base for you to understand the workings of energy properly and how you can utilize it for your benefit.
You can develop a better intuition through the course and help yourself guide life more efficiently.
You will learn to be more present, heal yourself, channel your inner workings, and strengthen your chakras.
This course can help you to manifest more love in your life and allow it to pour outwards.
The course is divided into brief 8 clear-headed parts that can help you prepare for this 7-week-long journey.
Part 1: Energy Awareness & Personal Presence
If your mind feels scattered or you lack awareness, then in the first part, you will learn how to tackle that. You will learn how to be more confident, comfortable, and attentive in any situation. Jeffery dramatically focuses on how you can "look from behind your eyes."
You will learn the following:
How to Practice Personal Presence
The Power of Energy Awareness & Healing
Deepening Your Grounding & Personal Presence
Your Body-Spirit Connection
You will meditate over these:
Personal Presence Meditation (Daily Meditation)
Advanced Meditation — Getting Into Your Body
Advanced Guided Journey — Center of the Earth
Part 2: Gain Mental & Intuitive Clarity
In the second part, Jeffery focuses on "opening your channel." You will learn to build your intuitiveness and connect to your higher mind.
You will learn the following:
Deepening Your Clarity
How to Practice Mental Clarity
Cultivating Intuition and a Balanced Mind
Clearing Your Mental Distractions
You will meditate over these:
Mental Clarity Meditation (Daily Meditation)
Advanced Meditation — Awareness Warmups
Advanced Guided Journey — Center of Head Room and Akashic Records
Part 3: Heal Your Body Using Energy
Jeffery steps up in this part, and you will learn 3 extensive techniques from ancient wisdom for healing in this part. You will learn to tap into your Earth Energy and activate your Hand Chakras.
You will learn the following:
Why Do We Struggle & Get Sick?
How to Energize & Clear Your Body
How to Heal Yourself with Energy
Deepening Your Healing Powers
How to Practice Your Healing Tools
You will meditate over these:
Healing Your Body Meditation (Daily Meditation)
Clearing Your Growth Period (Open-Ended Meditation)
Advanced Meditation — Running Earth and Cosmic Energy
Advanced Meditation — Channeling Healing Energy
Advanced Guided Journey — Fine-Tuning Your Source of Energy
Part 4: Empathy & Healthy Personal Boundaries
Jeffery introduces an advanced healing technique named "Permission Rose." You will learn how not to take the arrows of other people's spite, understand them better, and develop healthy personal boundaries for yourself.
You will learn the following:
Empathy — Why is Energy Contagious?
Healthy Boundaries & Your Aura
Who's in Control of Your Life?
Being a Healthy Boundary Ninja
How to Practice Healthy Energy Boundaries
You will meditate over these:
Choosing Your Space Meditation (Daily Meditation)
Advanced Meditation — Adjusting Your Aura
Advanced Meditation — Clearing Foreign Energy
Advanced Guided Journey — Being an Energy Ninja
Part 5: Use Your Chakras to Communicate & Manifest Better
Limiting beliefs and resistance to more significant opportunities hold you like no other rope. Jeffery focuses on aligning your chakras and opening the greater flow of abundance. You will learn to clear your chakra energy and use it to your advantage.
You will learn the following:
How Do We Get Stuck In Old Patterns?
Healing Your Chakra Patterns
Mastering Communication with Others
Breaking Your Manifestation Blocks
How to Practice Chakra Mastery
You will meditate over these:
Chakra Clearing (Daily Meditation)
Advanced Meditation — Healing Your Chakras
Advanced Meditation — Chakra Talk
Advanced Guided Journey — Manifesting Through the Chakras (From Lecture)
Part 6: Clear Your Limiting Beliefs
This part will teach you to increase your vibrations and achieve emotional stability. You will also be introduced to the "Gold Sun" technique.
You will learn the following:
What is stuck energy?
Are your beliefs serving you?
Clearing Unwanted Beliefs
Hacking Your Reputation
How to Practice Conscious Beliefs
You will meditate over these:
Clearing Your Pictures (Daily Meditation)
Advanced Meditation — Clearing Your Limiting Beliefs
Advanced Guided Journey — Clearing Your Reputation
Part 7: How to Access Your Intuition
You will finally learn how to fully access your intuition in this part and learn to harness this in your everyday life. Jeffery talks about the power of "effortless success" and bending your dream life the way you have always wanted it to be.
You will learn the following:
What is Intuition?
Improving Your Intuition
Creating Synchronicity & Abundance
How to practice your Intuition
You will meditate over these:
Using Your Intuition (Daily Meditation)
Advanced Meditation — Intuition Warmups
Advanced Meditation — Clearing Intuition Blocks
Advanced Guided Journey — Finding Direction and Timing
Part 8: Access Your Higher Awareness
You will learn how to access your higher self in this final session. It will significantly boost your self-confidence and self-love in your life. You will experience more tranquility and creativity.
You will learn the following:
Living from Your Higher Self
Meeting Your Spirit Guides
Talking with Your Guides
Practicing Higher Awareness & Continuing Your Journey
You will meditate over these:
Spirit Guide Conversation (Daily Meditation)
Meditation — Spirit Guide Conversation (30 minutes open-ended)
Meditation — Spirit Guide Conversation (60 minutes open-ended)
Advanced Meditation — Meet Your Guides
Advanced Meditation — Conversation with a Guide
Advanced Guided Journey — Becoming Your Higher Self
With this, your 7-week journey ends.
Verdict: These 49 sessions have clear and practical guidelines. The meditation sessions can help you understand the theoretical knowledge related to energy healing and practice it in your life.
As it is divided into these 49 sessions, the course ensures that you stay aligned with these goals as you move forward in your life.
Is Energy Healing Scientific?
Throughout this 7-week course, Jeffery focuses on energy healing and how you can use it to your advantage. But what is energy healing?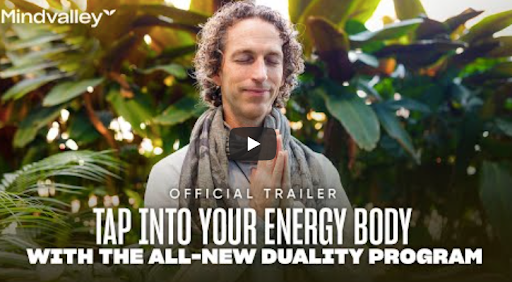 Jeffery says there are 2 sides to you: The physical you and the energy that guides you in your life.
He talks about how this energy gets polluted if not taken care of and why it is essential to address it. Hardly anyone talks about energy the way Jeffery does.
He goes into great depth about how neglecting this aspect of our being can deteriorate our mental and physical health. The core of this philosophy lies in the ancient scriptures.
Qi in Traditional Chinese Practices often talks about the manifestation of these energies in the Yin and Yang aspect of our being.
Verdict: It is important to note that Scientific studies haven't been able to find sufficient evidence on whether this holds much ground in reality. You can learn more about these studies here.
There is some evidence about how this practice can benefit your health, uplift your mood, and help you relax.
What's in the Bonus?
If you purchase the course now, you will also find the following bonus apart from the curriculum.
Bonus 1: Energy Healing Fast Start Guide
You will find a 25-minute bonus mini-course with Duality. You will find a handpicked selection of Jeffery Allen's energy healing techniques. You will get deeper insights into leveraging that to get to a better state.
Bones 2: Healing Negative Emotions During the Period of Growth
The second bonus also concentrates on healing the negative emotions that might be simmering inside your brain. He suggests "Clearing Your Growth Period" meditations when you feel stuck or helpless.
Bonus 3: Clearing Energy Blocks
You will learn a bit about how these energy blocks hinder your overall productivity and how you can clear them to get optimum results in your life.
Verdict: These bonuses further strengthen the core of Jeffery Allen's philosophies. You will understand more techniques to be ever-ready during your healing journey.
Who is Jeffery Allen?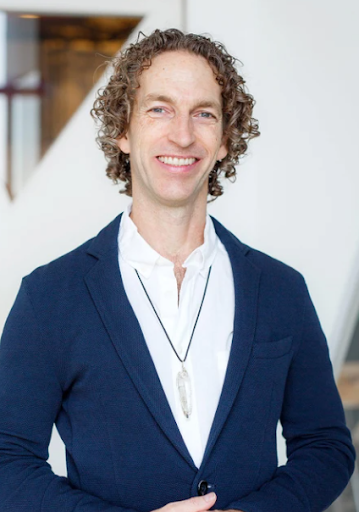 Let's understand more about Jeffery Allen and why he is a credible teacher for this course.
Jeffery was a quiet software engineer in 2005, and today he is one of the most renowned faces in this transformative energy healing process.
He massively felt unfulfilled during his prime phase as a software engineer. During that time also he was fascinated by the concepts of energy healing and spirituality. He started tutoring private clients and moved on to his most influential part.
He poured everything he learned in this inspiring 2-decades-long energy healing journey into this Duality course. His collaboration with Vishen and Mindvalley helped him become a renowned figure on this horizon and broadened his arena.
He has served on the board of directors for the Psychic Horizons Center in Boulder, Colorado, and also co-founded Spirit Mind Living, Inc., and Oneness Company.
Verdict: Jeffery's experience speaks for itself. His collaboration with other spiritual leaders across the United States and the world helps give a wholesome experience to students of the Duality program.
How Much Does it Cost?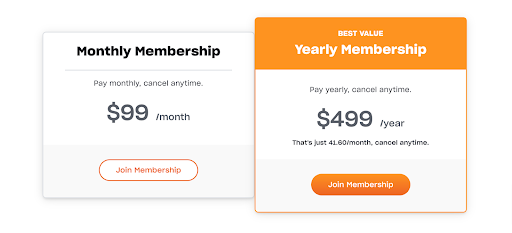 You need a Mindvalley membership to avail of the Duality Program on the Mindvalley platform. Mindvalley offers several subscription options:
Mindvalley Monthly Membership: The monthly membership is available at a discounted rate of $99/month. You can choose this if you want to take your time with the platform before committing to it.
Mindvalley Yearly Membership: You can get your 60 percent discount with a yearly membership of Mindvalley for $41.60/month.
Verdict: You can choose the annual membership to enjoy affordable rates. A Mindvalley Yearly Membership also allows you to try other essential courses on the platform. With this, you can take your 7-week journey without any hassle of renewal for the completion of Duality.
Is Duality by Jeffrey Allen Worth It?
If you are ready to let go and completely submit to Jeffery Allen's views of spirituality, then Duality can be beneficially life-altering for you.
It is essential to be aligned with Jeffery's energy healing system. After going through the curriculum, it will be magical if you feel that you can drive something from this journey.
Beyond the realm of Science, this system can help you find those parts of yourself you never thought existed. It can awaken you in the truest sense.
But if you are skeptical about this philosophy and don't feel like committing to this idea, then Duality is probably not the right fit for you.
Duality demands submission, devotion, and commitment to healing.
What Are the Pros and Cons?
Pros:
Concise and clear curriculum
Effective techniques
Can help you in your healing or spiritual journey
Jeffery's expertise
Available with a Mindvalley Membership
Practical Meditation Techniques
Community of Mindvalley
Cons:
Lack of Scientific Evidence
Limited one-on-one interaction
What Next After Duality?
After completing your Duality journey, try the Silva Ultra Mind System with Vishen Lakhiani, Superbrain with Jim Kwik, Wildfit with Eric Edmeades and Rapid Transormational Therapy with Marisa Peer.
You can dive deeper into your spiritual journey and find a wholesome way to heal yourself. A Mindvalley Membership can help you build your self-help journey in a replicable way.
My personal experience with Duality
I was ready to submit myself entirely to Jeffery's vision.
I wanted to learn about the different spheres of my existence. It felt mystical. But mysticism isn't wrong if it helps me become more positive in my personal and professional journey.
The meditations were long; therefore, I could truly understand Jeffery's teachings. It was easy to understand and magical. I felt free from my ideas of reality and could see something more.
I don't know whether that vision was true or not, but it felt real. As natural as my physical existence. So that's where his meditation technique helped me align with my higher self and look at my existence differently.
Related read:
Final Thoughts! Duality Jeffrey Allen Review
Duality is one of the most celebrated courses on the Mindvalley platform. But its popularity shouldn't overshadow the value and efficiency of the course.
We have tried to determine the same on the basis of a few important parameters in an unbiased way.
So is the course efficient enough to be taken seriously? Does it really deserve all the laurels and word of mouth?
The answer is — Yes. But the lack of scientific evidence for these claims can discourage many skeptics. So it's important to be completely aligned with the vision of Jeffery Allen if you want this course to work for you. Or else, you can skip it.
FAQs: Duality Jeffrey Allen Review
Is Duality available with Mindvalley?
Yes. Duality is available with a Mindvalley membership.
Who is the instructor of Duality?
Jeffery Allen is the instructor of the Duality course.
Can I access Duality through my mobile?
Yes. The course is available in Android and Apple stores. You can download the Mindvalley app to access it.
Is Duality a theoretical course?
No. You will find several meditation techniques that you will be asked to follow throughout the course.
How much does Duality cost?
You can enjoy the course with a Mindvalley membership. An annual membership can cost you $41.60/month.