As someone always looking to enhance my well-being and abilities, I was eager to embark on Marisa Peer's Uncompromised Life journey.
I have now completed the 10-module program and am uniquely qualified to provide an insider's review of this all-encompassing life optimization system.
In this article, I will share my firsthand experience and feedback on the curriculum, delivery format, instructor expertise, and transformational impact of Uncompromised Life.
Speaking from the perspective of an actual participant, I will evaluate if the program achieved meaningful change for me across fitness, nutrition, purpose, relationships, confidence, and more.
If you're thinking about committing to Marisa Peer's intensive program to live your best life, read my review first to make sure it's worth your time and money.
I will provide my own opinion as someone who completed all 10 modules of Peer's program for uncompromising self-improvement and empowerment.
What is Uncompromised Life Program?
The Uncompromised Life program is a transformative online course designed by Marisa Peer, a world-renowned therapist and motivational speaker.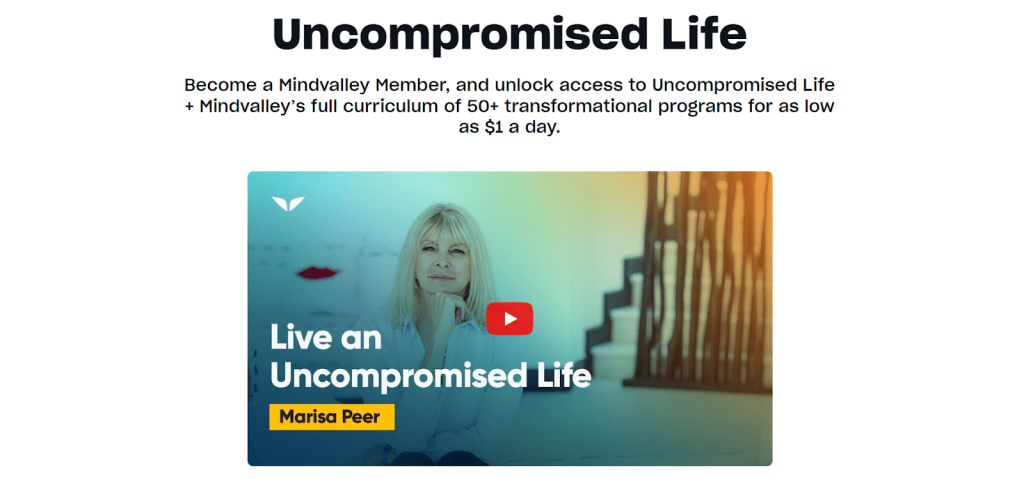 It focuses on empowering individuals to unleash their full potential and lead a life free from limitations.
Through a combination of powerful techniques, this program seeks to reprogram the subconscious mind and instill empowering beliefs.
Who is Marisa Peer?
Marisa Peer is a highly acclaimed therapist, best-selling author, and motivational speaker.
With over three decades of experience, she has worked with top athletes, celebrities, and business leaders, helping them overcome challenges and achieve their goals.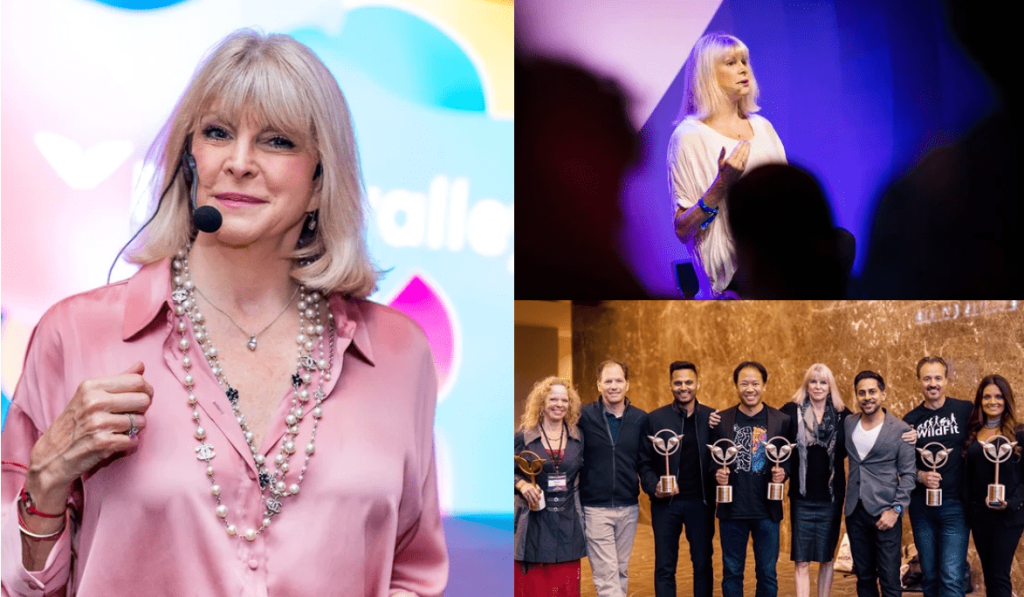 Her unique approach centers on the concept that our thoughts create our reality, and by changing our thoughts, we can change our lives.
Uncompromised Life: What is included?
Here is what is included in the Uncompromised Life program.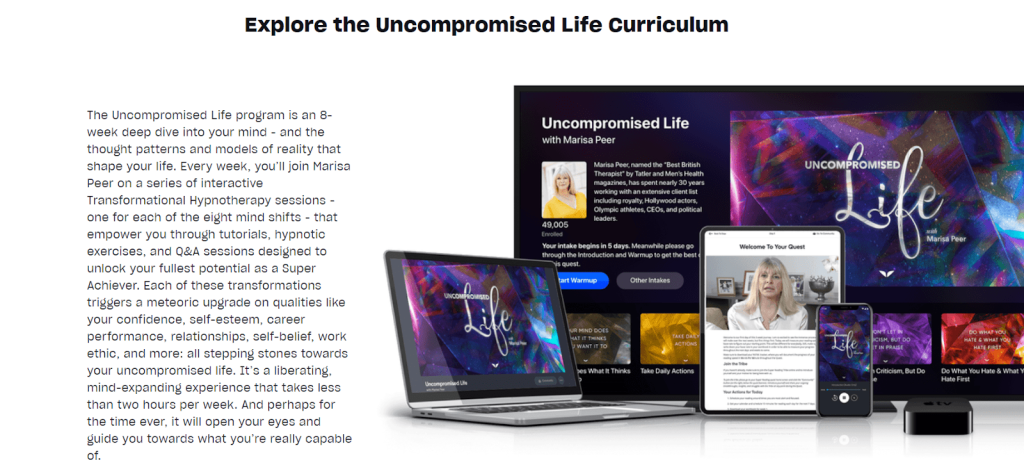 1. Regaining Control of your Mind
The first pillar of Uncompromised Life focuses on gaining mastery over the mind.  You will be guided through an array of powerful techniques and exercises to understand the immense potential of your thoughts. 
This part focuses on mindfulness and meditation to cultivate a heightened sense of awareness and tranquility. Moreover, you will be introduced to visualization to help you manifest desires and align with personal goals. 
Plus, it also talks about Neuro-Linguistic Programming (NLP) to transform thought patterns and behaviors effectively.
2. Leveling Up Your Success and Productivity
The second part of Uncompromised Life centers around elevating success and productivity to unprecedented levels. This segment equips participants with essential tools and strategies to set meaningful and achievable goals. 
Plus, here, you will explore time management techniques to optimize productivity and prioritize tasks efficiently. The program also delves into the art of focus and concentration. This enables you to eliminate distractions and channel your energy toward key objectives. 
Moreover, it fosters creativity by unlocking the hidden potential of innovative problem-solving and thinking outside the box.
3. Unshakeable Emotional Wellbeing and Self-Esteem
This part of the curriculum focuses on equipping individuals with research-backed stress management techniques. These include mindfulness practices, breathing exercises, and progressive muscle relaxation. Doing so enables you to respond to daily pressures and setbacks with greater composure and clarity.
Additionally, this module incorporates proven confidence-building techniques based on cognitive behavioral therapy principles. Through a series of interactive exercises and journaling prompts, you will learn to identify and reframe limiting beliefs about yourself.
Plus, it also covers Gratitude practices that are interwoven throughout this module to help anchor participants in positivity.
Who is the Uncompromised Life Course for?
This program is for individuals who feel stuck, unfulfilled, or held back by self-limiting beliefs.
It caters to those seeking personal growth, self-confidence, and a deeper understanding of their true potential.
Even if you are an aspiring entrepreneur, a professional aiming for career advancement, or anyone looking to improve their quality of life, the Uncompromised Life program can be a powerful tool.
Uncompromised Life Review: Pricing
In order to get access to the Uncompromised Life program, you will have to buy the Mindvalley membership.
The Mindvalley yearly membership comes for $499/year. That means you will have to pay $41.60 per month.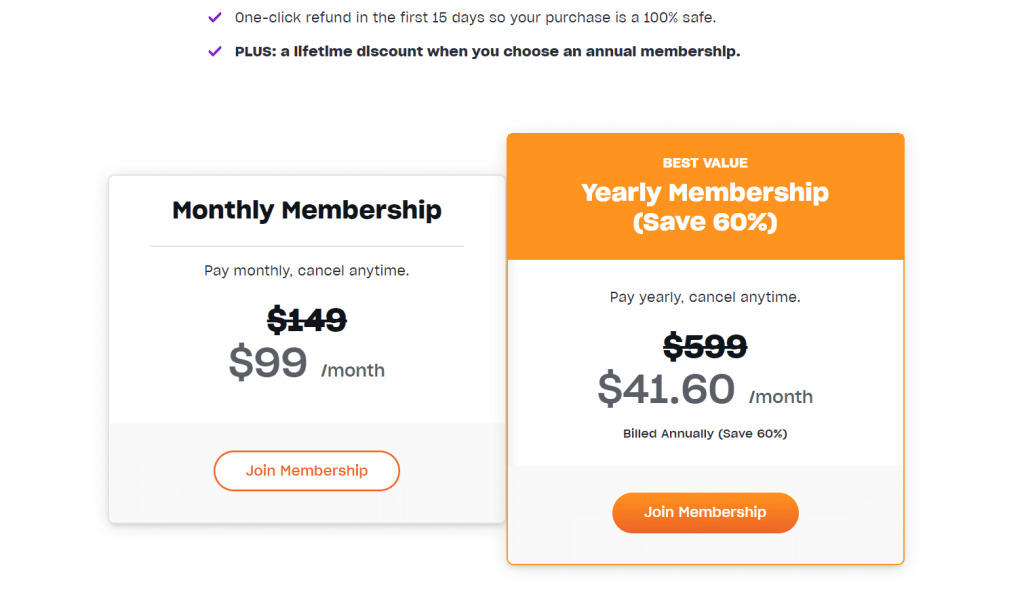 If you want to get a monthly membership, then it would cost you around $99/month.
So if you ask me, I would recommend you go for yearly membership as you get access to all the exclusive Mindvalley programs plus you can save upto 60%. If you are still confused about Mindvalley, you can try their 7-days free trial.
Is Uncompromised Life Worth It: My Experience
As someone who embarked on the Uncompromised Life journey, I can confidently say that it's been a game-changer.
Marisa's approach resonated with me deeply, and the program's content was both enlightening and actionable. The program pushed me out of my comfort zone to speak and act with authenticity, even when it was difficult. 
Learning to do this gradually made me feel more fulfilled and purposeful. I also appreciated the practical tools provided for continuing this practice in my daily life.
While demanding at times, I found participating in this program incredibly worthwhile overall. The experience has made me more grateful for each new day and optimistic about the future.
I highly recommend the "Is Uncompromised Life Worth It" program to anyone seeking meaningful personal growth.
If you are willing to do the inward work and apply what you learn, it can be life-changing. I am so glad I stepped outside my comfort zone to participate – it has made my life richer and more rewarding in ways I never imagined.
Uncompromised Life By Marisa Peer Review: Pros and Cons
Like any program, the Uncompromised Life course has its strengths and limitations. Check out the Pros and Cons I have listed below:
Pros:
Empowering and motivational content
Expert guidance from Marisa Peer
Practical techniques for real-life application
A supportive community of like-minded individuals
Cons:
Investment required for enrollment
Results may vary from person to person
Know my experience with:
Conclusion: Uncompromised Life Review
Marisa Peer's "Uncompromised Life" program offers a comprehensive and transformative approach to personal development.
With a focus on regaining control of the mind, and leveling up success and productivity, the course provides valuable tools for individuals seeking positive life changes.
Marisa Peer's expertise in the field of personal growth shines through the well-structured and thought-provoking content of the program.
Whether one is aspiring for career advancement, emotional balance, or simply seeking personal growth, "Uncompromised Life" equips participants with the mindset and skills to unlock their true potential.
With its holistic approach and practical insights, "Uncompromised Life" stands as a powerful resource for anyone committed to their journey of self-discovery and empowerment.
FAQs: Uncompromised Life Review
How does Uncompromised Life work?
The program combines powerful techniques, including Neuro-Linguistic Programming (NLP) and hypnosis, to rewire the subconscious mind. It helps participants identify and change negative thought patterns, instilling empowering beliefs that align with their goals and aspirations.
Is the program suitable for everyone?
Yes, Uncompromised Life is designed to benefit individuals from all walks of life, regardless of their age, background, or goals. Whether you seek personal growth, career advancement, or improved well-being, the program can be beneficial.
How long does the Uncompromised Life program run?
The program is typically structured over an eight-week period. Participants receive access to a series of online modules containing video lessons, exercises, and guided hypnosis sessions.