So you want to achieve great things in your life. But you don't know where to begin, what to do about that, or how to structure that properly.
This place where you are stuck — that's where Lifebook on the Mindvalley platform meets you.
Most people give up on their true dreams or never get to where they want to be. This lack of clarity guides thousands of people from around the globe to this one of the most impactful courses on the Mindvalley platform.
But do their lives really change? What is it in this course? And is it helpful? Let's discover that in this honest, in-depth review of Lifebook.
Lifebook Online Review: In a Nutshell
Before we become critical and understand this course in detail, let's briefly overview this course.
| | |
| --- | --- |
| Course Duration | 6 Weeks |
| Students Enrolled | 56,000+ |
| Purpose of the Course | Design your life and success |
| Languages Available | 7 |
| Instructors | Jon & Missy Butcher |
| Pricing | $499 |
| Available On | Desktop, Apple Store, Google Store |
| Our Ratings | 4.5/5 |
What to Expect from the Course?
Lifebook is precisely what the name suggests. A book on life. But whose life?

Lifebook is about you, written by you, and for you. It is an ever-encompassing book about your journey, destination, and where you want to be.
According to Jon, this will be the most essential book in your bookshelf. The book will cover every aspect of your life, including desires, goals, and priorities.
Most people spend their entire lives fulfilling someone else's dreams without clearly knowing what they want from their lives. No matter how ridiculous or unachievable those dreams might seem to you, according to Jon and Missy, it's all possible.
This course is designed in that way so that you can write your whole life and prepare a guideline for yourself that you can stick to. You can prepare your own timeline of everything based on realistic strategies and the guidance of your mentors.
Lifebook is supposed to be your go-to book, and it doesn't matter whether you are a good writer. You will be able to write this due to the guidance of Jon and Missy. This book can help you formulate and stick to your goals during the best and worst times.
Aspects of Lifebook Online
Jon & Missy extensively try to make this course as wholesome as possible so that you can write your book covering all the significant aspects of your life.
So what are these important aspects? Or dimensions, as Jon and Missy Butcher put it.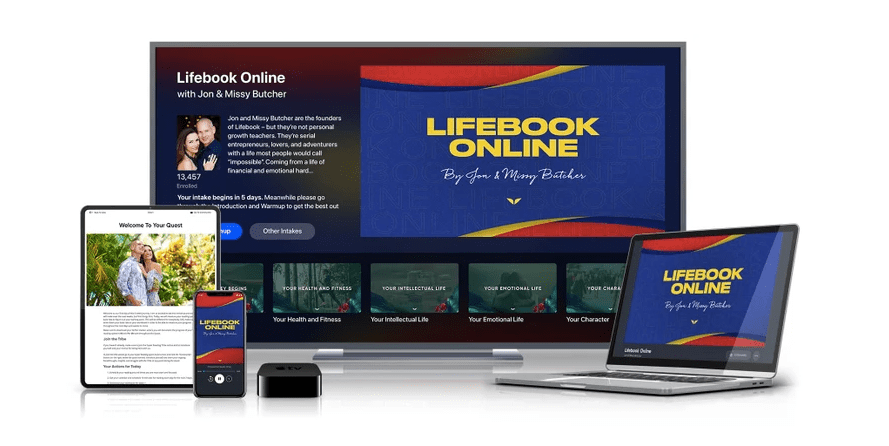 Let's quickly go through them.
Health and Fitness:
This dimension emphasizes the importance of caring for your physical well-being. It involves adopting healthy habits such as regular exercise, nourishing your body with nutritious foods, getting enough sleep, and prioritizing self-care practices.
Intellectual Life:
The intellectual dimension focuses on continuous learning and personal growth. It encourages expanding knowledge, acquiring new skills, reading books, attending courses, and engaging in stimulating conversations.
Emotional Life:
This dimension delves into emotional intelligence and self-awareness. It includes understanding your emotions, managing them effectively, and cultivating healthy relationships with others.
Character:
Character refers to the values, principles, and ethics guiding your actions. It involves embodying honesty, integrity, authenticity, and personal responsibility.
Spiritual Life:
The spiritual dimension focuses on exploring your beliefs, connecting to something greater than yourself, and finding a purpose. It involves meditation, contemplation, prayer, and engaging in activities that deepen your spiritual connection to the world.
Love Relationship
This dimension centers around building and nurturing intimate relationships. It involves effective communication, emotional intimacy, trust, mutual support, and growth within the partnership.
Parenting
This dimension addresses the role of being a parent and the responsibilities of raising children. It emphasizes creating a nurturing and supportive environment for children's growth, imparting values and life skills, and fostering a strong bond with them.
Social Life
The social dimension highlights the importance of connections and relationships beyond the intimate partnership. It involves cultivating friendships, participating in community activities, engaging in social causes, and fostering a support network.
Financial Life
The financial life dimension focuses on managing finances and achieving financial well-being. It involves setting financial goals, budgeting, saving, investing, and creating strategies for wealth generation.
Career
The career dimension revolves around finding fulfilling work and aligning your professional life with your passions. It involves setting career goals, developing skills, and creating a work-life balance that supports overall well-being.
Quality of Life
This dimension emphasizes creating a balanced and fulfilling lifestyle. It includes enjoying leisure activities, pursuing hobbies and interests, taking vacations, and engaging in activities that bring you true joy.
Life Vision
The life vision dimension encourages you to define your long-term vision and set meaningful life goals. You will learn about reflecting on personal values, aspirations, and purpose and creating a clear roadmap to designing a life that aligns with your vision.
During these 6 weeks, you can expect a deep dive into all these spheres of life. The curriculum of the course is divided in the following manner:
Week 1: Health, Fitness, and Intellectual Life
Week 2: Emotional Life & Character
Week 3: Spiritual Life & Character
Week 4: Parenting & Social Life
Week 5: Financial Life & Career
Week 6: Quality of Life & Life Vision
This segregation helps this course become a wholesome outlook of what is to come in these weeks and how you can be mentally prepared for the same. You will also get 2 Bonuses with it.
Bonus 1: 6x Pre-recorded Calls with Jon & Missy
You will get extra insights into the minds of Jon & Missy and their philosophy while going through these pre-recorded calls. It can help you make your Lifebook more nuanced based on the conversation you will hear.
Bonus 2: Handpicked Pages from Jon's Personal Lifebook
Get a chance to peek into Jon's own personal lifebook. You can get inspired, mimic the style, and learn from samples Jon has used for his life.
Verdict: These bonuses and structured curriculum makes Lifebook an easy-to-understand task. It can guide you to make your perfect book and include all the significant aspects of your life.
How Can Lifebook Online Help You?
Lifebook can help you find your own meaning in life, make a roadmap for yourself, and then make decisions based on that. But it can also help you in so many other ways. Here is how:
Tapping into Authenticity: Discover your strengths and weaknesses in the 12 dimensions of life, set goals and objectives for each dimension, and create a unified life vision that aligns with your true self.
Designing a Truly Authentic Life: Break free from societal rules and expectations, align your life with who you want to be, and live a life that resonates with your authentic self.
Developing Unbreakable Resilience: Use clarity of purpose and personal power to overcome obstacles and reinvent yourself in the face of challenges and transitions.
Strengthening Your Growth Mindset: Utilize Lifebook as a system that integrates all your personal growth tools and learnings into actionable plans for each dimension, fostering perpetual growth and self-evolution.
Achieving Work-Life Balance: Create a life where all dimensions of your being thrive in harmony, without sacrificing one form of success for another.
Maximizing Productivity: Overcome habits and patterns that hinder productivity, stay aligned with your Life Vision, and focus on tasks that propel you closer to your goals.
Uncovering and Honoring Passions: Break free from unfulfilling work, relationships, and lifestyles, and have the clarity and courage to pursue your passions and reinvent yourself if needed.
Accelerating Goal Achievement: Create a unified Life Vision that motivates you and continually pushes you towards your goals. Measure progress using tools like the Lifebook Assessment and prioritize the dimensions of life essential to your growth.
Verdict: Lifebook promises to help in these aspects and accurately delivers them. This process can help you sort out your priorities and unlock so many much more.
Who Are Jon & Missy Butcher?
Jon & Missy Butcher could have spent their lives enjoying the fruits of co-founding over 19 companies. They have made over $10 Billion in sales. They did not need to go through this and put out the course
But they did. Their sole intention lies in helping people get their lives on track. They have dedicated their lives to personal growth, transformation, and helping others live extraordinary lives.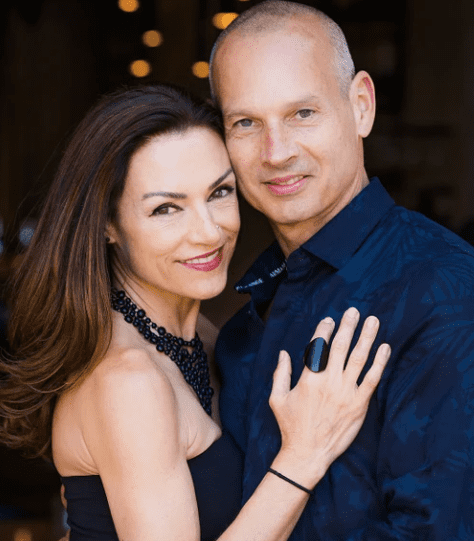 They have shared their knowledge and insights through workshops, courses, and speaking engagements, inspiring people to think differently, challenge societal norms, and create their own extraordinary lives.
They have also initiated and supported charitable projects worldwide, including building schools, providing clean water access, and supporting sustainable development initiatives.
Verdict: The benevolent side of this happy couple is quite evident the more we dive deeper into their lives. Their will to help becomes apparent through this course and the impact it has left on thousands of people around the globe.
Is It Included with a Mindvalley Membership?

Lifebook is separate from a Mindvalley Membership. You will have to invest $499 to purchase this course.
Though, there is a silver lining. You can ask for a total rebate if you follow the course correctly and make your Lifebook in time.
You can enjoy this course for free. So the fees become a monetary motivation for you to complete the book in time. You can visit this page to learn more about the same.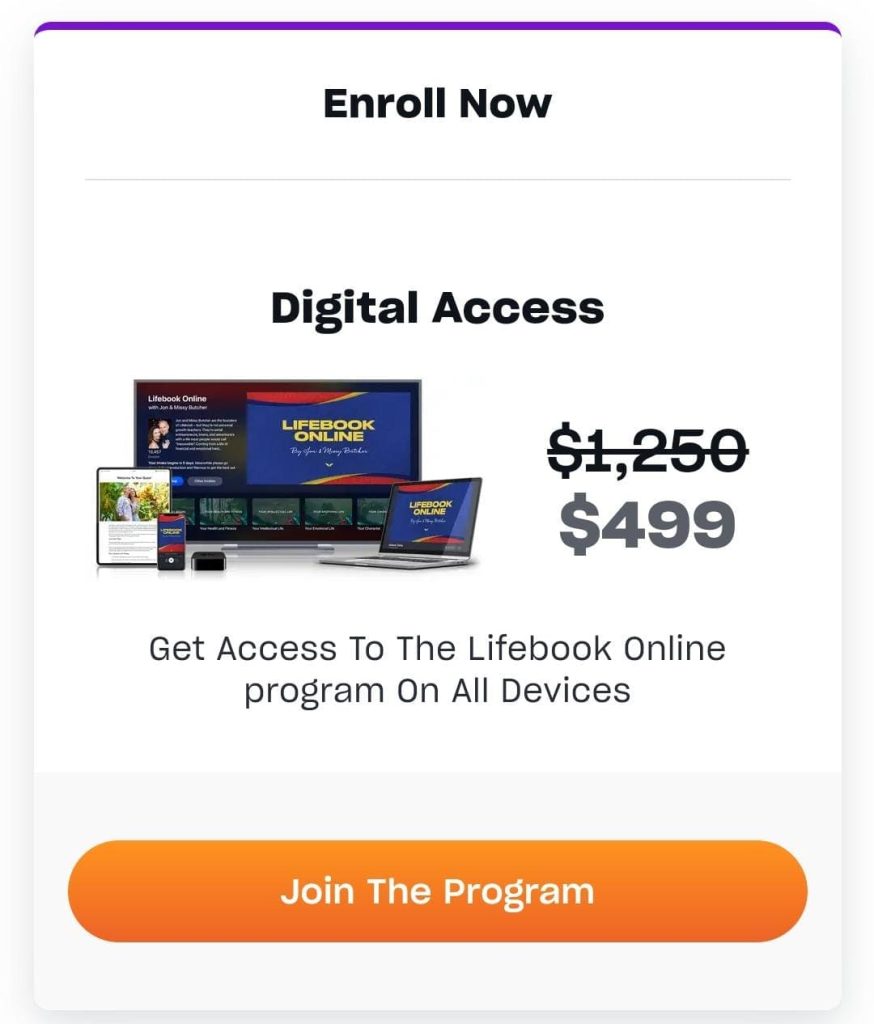 This online refund request is accepted after you submit everything properly.
Verdict: The course fee may discourage people from investing in it in the first place. But this rebate system is an excellent motivator for people to finish their Lifebook in time and design their lives how they wish to.
What to Keep in Mind Before Investing in Lifebook?
Lifebook demands a few things from you before you decide to invest in it or not.
It requires time, dedication, and self-reflection. Ensure you are ready and committed to investing time and effort in the program.
You also should have a "why" with you regarding why you want to go through this journey and what's guiding you. Then the financial commitment of $499 also requires self-reflection from your end.
You can request a refund within the first 15 days of the course. So it's all right if you change your mind after investing in it. But it's essential to go through this format and decide whether this can benefit you in your life.
Pros and Cons of Lifebook
Here are a few positive and negative pointers that can help you make up your mind about the course.
Pros:
A comprehensive life assessment
Holistic Approach
Experience of Jon and Missy
Flexibility & Self-paced learning
Helps with goal setting
Rebate policy
Cons:
Demands commitment and efforts
Cost
Individual efforts may wary
My Experience with Lifebook
I opted for this course after hearing rave reviews about it. I needed to know whether this is helpful as it seemed and whether I could make my own Lifebook and stick to it.
During the orientation, I got a fair idea about what's this about and how to go with the course. The course's curriculum was enticing enough as I felt it covered all the significant aspects of my personality and life.

Sure, I added a few extra sections and tried to make Lifebook my own as much as possible. It took time. I allowed my brain to work on this; it felt crucial to me when I was working on it.

I got clarity over what I want in my life and what I can do to achieve the same. Jon's Lifebook was really helpful for that. I reach out to this book and will always reach out to it as I outgrow myself in the coming years.

The clarity related to the vision in my life makes more sense to me now. The exercises combined with all this make me feel wholesome. I now have my priorities set. Lifebook has been a positive influence on me so far.
Related Reads:
Final Thoughts: Lifebook Online Review
Lifebook course offers a comprehensive and holistic approach to personal development.
It has guided people towards creating a clear vision and goals in those significant dimensions of life. With its structured framework and high-quality content, Lifebook is an exciting journey.
As you write everything from scratch and it's all you, they are just there for guidance. It feels like the most personalized form of teaching.
Lifebook principles have been life-changing. They can be for you as well. Sure! Give it a try if you feel like you are ready.
FAQs: Lifebook Online Review
Who is the Lifebook program for?
The Lifebook program is for individuals dedicated to self-improvement and who want a structured system to design and manifest their ideal life across all dimensions. 
How much does Lifebook cost?
The Lifebook program costs $499. 
Is Mindvalley available with a Mindvalley subscription?
Lifebook is a partner program, so the course is not part of the Mindvalley subscription.
Do I have access to the program for a lifetime?
Yes. If you don't ask for a refund, you can access the program for however long you want. You can enjoy your lifetime access.
Can I get a refund if I don't like the program?
Yes. You can get a refund within the first 15 days of the program.